03-Jul-2022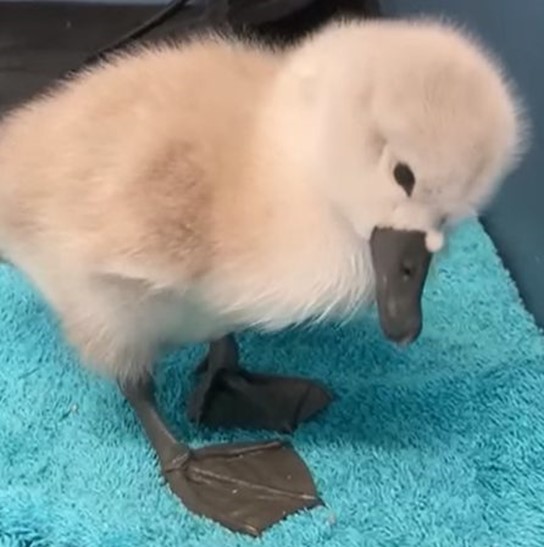 A few weeks ago, we rescued our first cygnet of 2022. Abandoned by its parents and weak after hatching, it was only a day old when we rescued it. We believe it had hatched a little later than the others, which is why its parents left it. We are delighted to say that after fearing the worst it has a very healthy appetite and is continuing to grow bigger and stronger by the day.
The photos to the right and below show the day the cygnet was rescued and the same cygnet just a couple weeks later - a big change!
She will be with us until she has her flight feathers fully grown and working, so we are able to release her - with some friends she will grow up with - in the autumn. (And no, we don't know if it's a boy or girl cygnet.)
One of our first rescues after we re-opened was at a lake in Uxbridge. There were 3 juvenile swans that had found themselves trapped behind netting which divides a small section of the lake. We thought they just needed a helping hand to get to the other side of the lake but once we entered the water, we realised that all three swans were wrapped in fishing line.
Two were untangled, injury free and released. Unfortunately, the third had a treble hook embedded in its foot. We safely removed the hook with the help of a local fisherman Scott (pictured below) who was as appalled as we were at the amount of waste fishing line laying around the lake.
The swan came back to our centre for extra treatment and monitoring, where we cleaned up the wound and administered some anti-inflammatory medication, which worked well. A week later the swan was ready to be released back to the lake.
We have had many other rescues since re-opening: A swan on the railway line which we caught on the viaduct over Maidenhead bridge and a very poorly swan from a fishery that we suspect had been subject to a mink attack to name but two.