Corporate Sponsorship
See also: Corporate Work Parties
Swan Lifeline, established in 1986, plays a pivotal role in the rescue and rehabilitation of the swans gracing our rivers and lakes. Our dedicated team in Eton works tirelessly, reaching out to over 600 calls annually to ensure the wellbeing of these wonderful birds, iconic to our local landscapes.
Why Sponsor Us
There are so many benefits to sponsoring Swan Lifeline: Enhancing your business' public image, corporate social responsibility, diverse marketing & PR opportunities, employee engagement, tax benefits, environmental stewardship, community engagement, biodiversity education and long-term business sustainability.
Join us in a collaborative journey where you not only foster growth for your business but also contribute to a cause that stands tall in its commitment towards environmental conservation and community welfare.
Read or print our Sponsorship Proposal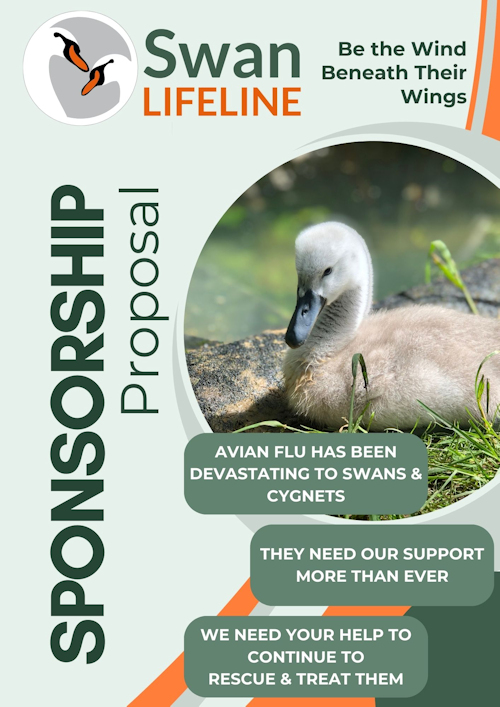 Sponsorship Opportunities
We welcome all business partnerships be it through donations, services, employee fundraising, sponsorships or grants. We work closely to tailor a partnership that is mutually beneficial. To get started, we propose the following opportunities.
BRONZE
£500 per year
Mention in Swan Lifeline newsletters.
Name, logo, and link on Swan Lifeline's website supporters' page.
Permission to use Swan Lifeline's logo on your communications and premises.
Volunteering opportunities for your employees.
SILVER
£1,000 per year
All the benefits of Bronze, plus:
Social media shoutouts.
Small logo on Swan Lifeline rescue vehicles.
Sponsorship certificate from Swan Lifeline.
GOLD
£2,500 per year
All the benefits of Silver, plus:
Medium-sized logo on the 2 Swan Lifeline rescue vehicles.
Logo on a dedicated plaque at the rescue centre.
Talk by Swan Lifeline staff or trustee at your premises.
Naming rights for a pen, accompanied by a plaque.
Cross-promotion opportunities.
PLATINUM
£5,000 per year
All benefits of Gold, plus:
Large logo on Swan Lifeline rescue vehicles.
Featured profile in Swan Lifeline newsletters and social media as "Sponsor of the Month".
Personalised tour of the rescue centre for up to 10 guests.
Additional naming rights for ICU or the Cygnet Pen.
Employee training on CSR, environmental issues, and sustainability at Swan Lifeline.
Opportunities for product or service integration showcasing at Swan Lifeline.
"Adopt a Cygnet" programme to foster team spirit and engagement.
"Meet the Swans" day for key clients or prospects, offering a unique experience to foster business relationships.
How to get Involved
Get in touch to start a partnership with us, or to get more information, or to arrange a site visit.
Contact: Dominic Smulders, Chair of Trustees
chairman@swanlifeline.uk | Direct Line: 07770 660770